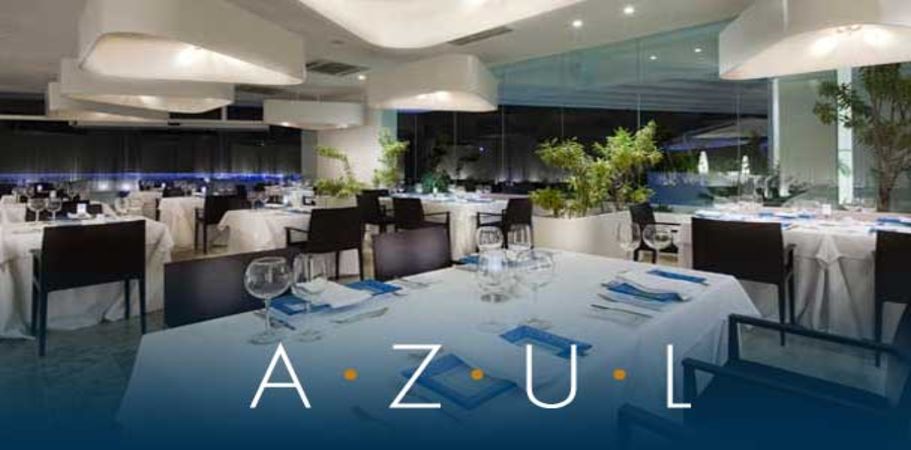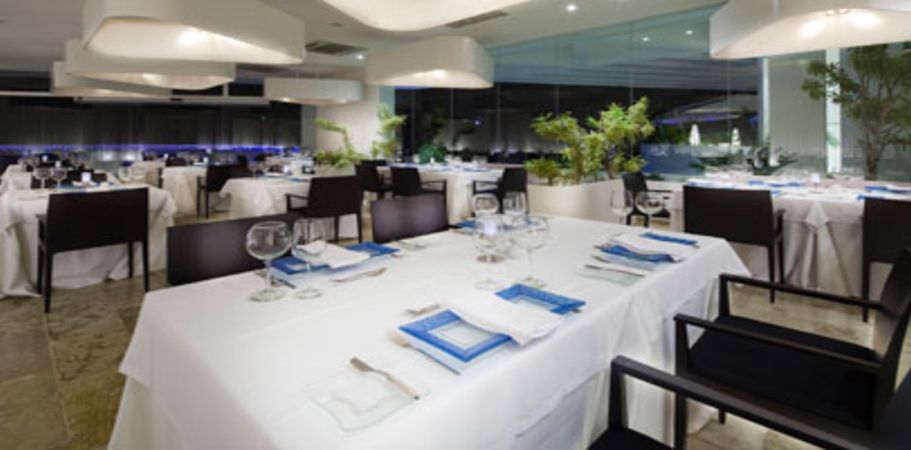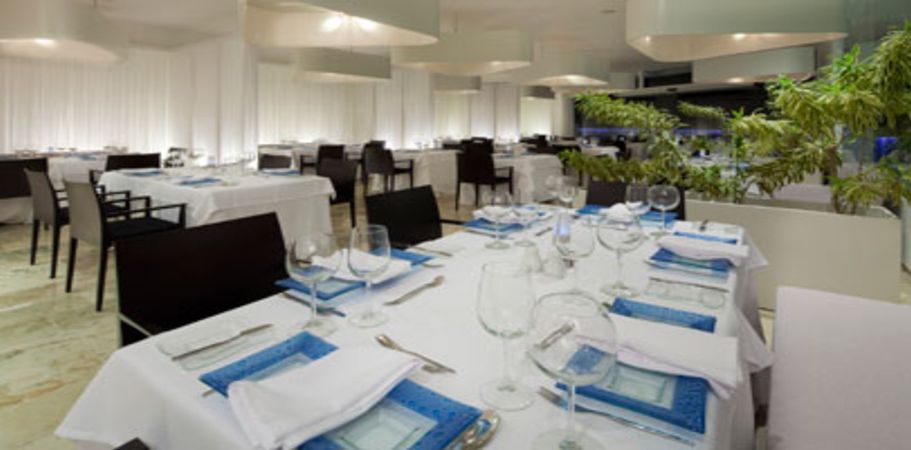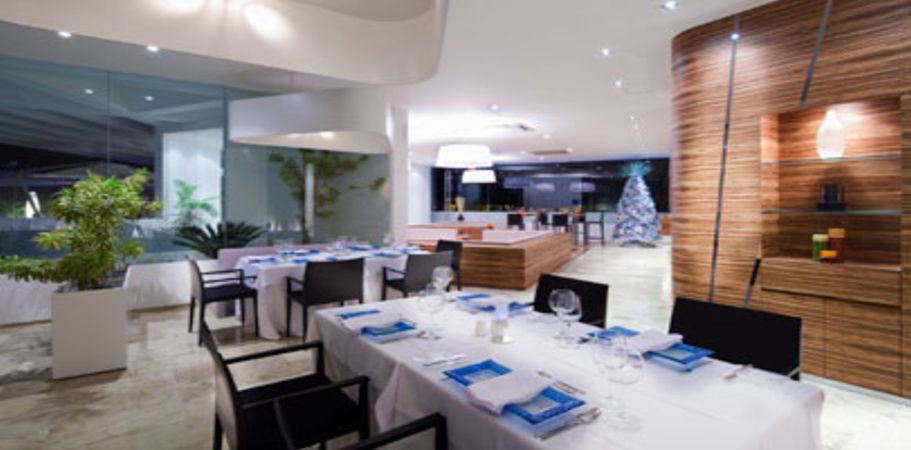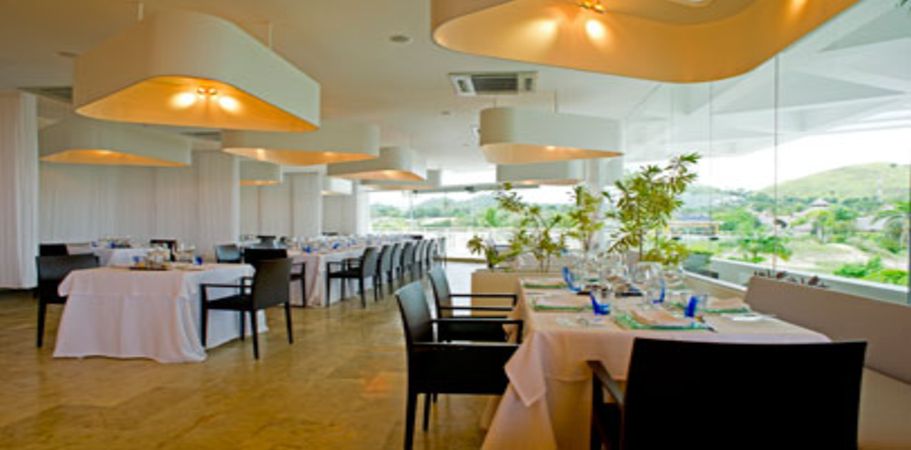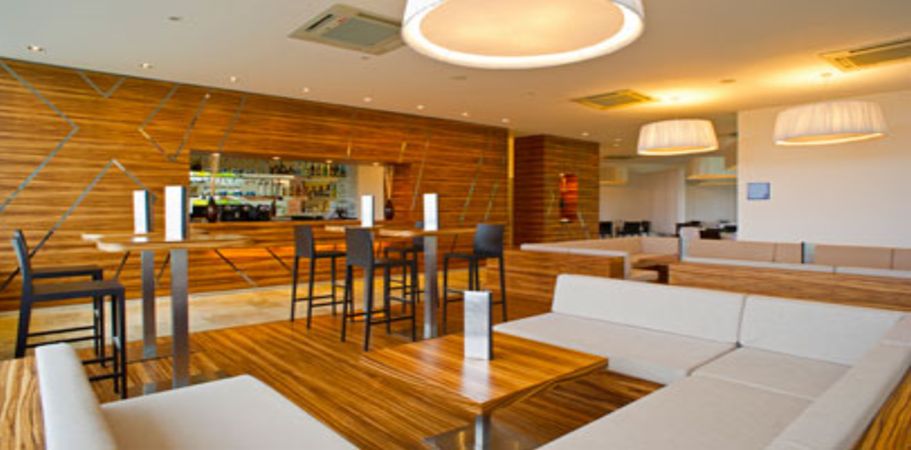 A culinary experience not to be overlooked. AZUL is located on the top floor of the new Lifestyle Holidays Vacation Club tower.

Dinner: 6:30 p.m. to 10:00 p.m. (6:30 & 8:30 seattings)
Reservations required. (Upon special request and based on availability)
Dress Code: Smart casual attire required (Long pants and Shirt with a collar for Men).
Menu
VELOUTE

Harvest Harmony Consommé
Fava Beans, Sweet Corn, Garbanzo Beans, Jalapeño Avocado Cilantro Bubble.

New England Clam Chowder
A Traditional Martha's Vineyard Recipe

APPETIZERS

Scottish Salmon Carpaccio Fume
Shaved Bonito, Miso Paste, Dashi, Smoked Eel Sauce Reduction, Wakame, Crispy Leeks

Oven Roasted Beet Salad
Organic Lettuce, Cherry Tomatoes, Roasted Sunflower Seeds, Goat Cheese, Truffle Vinaigrette

Seared Scallops
Papaya Beurre Blanc, Basil Oil and Herbes de Provence, Plantain Crisp

Mediterranean Tower
Himalayan Salt, Grilled Organic Vegetables, Feta Cheese, Balsamic Vinaigrette

RESERVE STEAKS

Cabernet-Braised Angus Beef Short Ribs
Garlic Confit Potatoes, Tomato Marmalade, Season Organic Vegetables, Natural Jus

Filet Mignon
Creamy Spinach, Hand Cut Fries, Onion Jam, Spicy Chipotle Ketchup

Angus Prime Rib
Garden Vegetables, Garlic Butter Brussels Sprout, Wisconsin Blue Cheese Baked Potato

Lamb Shank
Moroccan Couscous, Mediterranean Vegetables, Caramelized Onions, Rosemary Demi'Glace Reduction

Butchers Best-Secret. Angus Sirloin Skirt
Grape Jam, Mushroom Polenta, Beer Battered Onion Rings, Horseradish Aioli

Free Range Chicken Breast
Organic Cilantro Quinoa, Burnt Smashed Carrots, Garlic Jus


FISH AND SEAFOOD

Japanese Amberjack Fish Filet
Plantain Blanket, Fire Roasted Sweet Corn, Pico de Gallo, Pickled Radish, Caper Aioli

Boiled Lobster
Creamy Mashed Potatoes, Spinach, Lemon Butter Sauce

Chilean Sea Bass
Mint Green Pea Pure, Charred Tomatoes, Snow Peas, Citrus Scented White Rice, Ponzu Vinaigrette

Seafood Aquarium
Snow Crabs, Peel & Eat Shrimps, Lobster Tail, Shucked Oysters Mussels, Clams, Cole Slaw Horseradish and Lemon Butter Sauce

PASTA AND VEGETARIAN

Spinach Ricotta Ravioli
Sage Brown Butter, Nutmeg, Quail Egg, Crispy Basil

Tomato & Fresh Mozzarella
Toasted Ciabatta Bread, Basil Pesto, Pickled Mini Eggplant, Green Beans Fries, Scotch Bonnet Chili Oil

DESSERTS

Souffle
Exotic Fruits, Strawberry Coulis, Confectioners Sugar

Molten Chocolate Lava Cake
Cinnamon Infused Whipped Cream, Strawberry Compote

Crème Brulee
White Chocolate, Anise Spice, Vanilla Bean

Patisserie Du Jour
Chef's Specialty